Your satisfaction is important to us!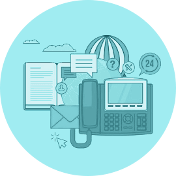 SDL365.ORG cares about customers and wants to make sure you enjoy your loan.

If you have questions regarding any step of loan application process, or other issues and suggestions, don't hesistate to contact us via contact form. Our friendly customer support will be happy to provide the needed answers in 24 hours.
Visit SDL365 on Twitter | Facebook
---
Apply for payday loans by phone: (302) 303-8415
E-mail: info@sdl365.org
Application Hours: Open 24h
Office Hours:
Sunday 10:00 AM–1:30 PM
Monday 9:00 AM–6:00 PM
Tuesday 9:00 AM–6:00 PM
Wednesday 9:00 AM–6:00 PM
Thursday 9:00 AM–6:00 PM
Friday 9:00 AM–6:00 PM
Saturday 9:00 AM–6:00 PM
Address: 2103 N Concord Pike,
Wilmington, DE 19803
Branch Manager: Raven Stewart
Permanently Closed
831 N Tatnall Street Suite M #256, Wilmington, DE 19801
---
Still have any questions? Read our FAQ page to learn more!